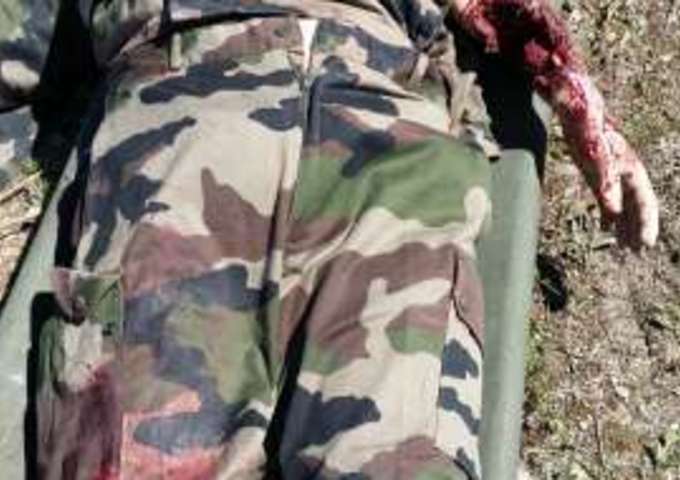 Prehospital Emergency Medicine
Damage Contrôle
Can move to your structure
flag Languages spoken : French
4-handed practice

Level required: beginner

Max 4 people

Duration : 1 day
Program
Beginner program
Formation pratique (initiale ou perfectionnement) sur la prise en charge du (des) blessé(s) par arme de guerre/explosion dans le cadre d'un attentat sur le territoire nationale ( tuerie de masse). La formation n'est possible qu'a partir de 3 apprenants minimum l'idéal est 5 et possibilité de monter jusqu'à 8.
Practical aspects
9h-12h: présentation théorique et pratique( vidéo/photos/matériels) du Damage control 14h-16h : mise en situation avec simulation (mannequin simulateur et/ou plastron) 16h-17h Discussion/conclusion
Program details
Enseignement théorique et pratique du Damage contrôle (DC) Ground Zero ( pré hospitalier) , DC (réanimation) . La prise en charge d'un ou plusieurs blessés par arme de guerre ne s'improvise pas !
My equipment
Matériel utilisé dans le damage contrôle Préhospitalier ( Garrot tactique, pansement compressif, pansement hémostatique, valve asherman, Etc )
Associated skills
Fluid Therapy
Fluid Therapy and Burn Care
ACS
ARDS
Accounting
Actions to reduce infections
Acute Pain
Acute Renal Failure
Acute Repetitive Seizures
Ambulatory in Peditatrics
Analgesia and Intensive Care
Anaphylactic Shock
Anesthesia on non-obstetric surgery in the pregnant patient
Antibioprophylaxis
Antibiotic Strategy
Aortic Emergencies
Awake Fiberoptic Intubation
Bacterial Infections
Bladder Pressure
Blood Culture - Antibiogram
Blood Saving Techniques
Brain Dead / Life Sustaining Treatment Limitation
Brain Injury
Burn Injury
Cardiac Arrest
Cardiac Arythmia and Conduction Disturbances
Cardiac Risk of Noncardiac Surgery
Cardiac Ultrasound (trans-thoracic and trans-oesophagial)
Cerebral Vascular Injury
Cesarean Delivery
Choc Cardiogenique
Chronic Kidney Disease
Computerisation
Cooperation Among Medical-Paramedical
Cooperation Among Specialties
Coronary Heart Disease
Cranial Trauma
Database
Difficult Ventilation
Disaster Medicine
Disaster Medicine
Emergency Organisation
Endocarditis -Pericarditis
Epidural and Spinal Blocks/ TAP
Exploration de l'Hémostase
Extracorporeal Circulation / CPB / ECMO
Extrarenal Dialysis
Extubation
Fluid balance
Full Stomach
GA and Analgesia Monitoring
Gastric Ultrasonography
Gestion des anticoagulants oraux
Heart Failure
Hemodynamic Monitoring
Hemorrhage Shock
Hemostasis
Hemostatics Drogs
Hemovigilance
High Frequency Jet Ventilation
High Intracranial Pressure
High Pressure / Pheochromocytoma
Humanitarian Medicine
Hygiene
Hyperbaric Medicine
Hypnosis
Influenza
Insurance
Intracranial Pressure
Intracranial Pressure Monitoring
Intraosseous access
Intubation
Intubation and Pregnancy
Jet Ventilation
Life Sustaining Treatment Limitation
Lumbar Puncture
MEDEVAC
Malignant Hyperthermia
Massive Transfusion
Medical Dispatching
Medical Transfusion Form
Multimodal Analgesia
Muskulosqueletal Ultrasound
Méningoencephalitis
NIRS
Networking Research
Non Invasive Ventilation
Obstetric Analgesia
Obstetrics
Obstructive or restrictive respiratory syndrom
One Lung Intubation
Ophtalmology
Opioid Free Anesthesia
Organ Transplantation
Orthopedy
Otolaryngology - Maxillofacial
Out of Hospital Medical Assistance
Out-of-OR Anesthesia
PIC Monitoring
Pediatric Acute Respiratory Failure
Pediatric patient education
Perienural Catheters
Peripheral Regional Block
Peripheral Venous Access
Pharmacology: Curare, Hypnotics, Morphine
Plastic and Reconstructive Surgery
Pleural / Pericardial Drainage
Pleuropulmonary Ultrasound
Polytraumatized
Polytraumatized
Pre-Hospital Assessment with Ultrasound
Pregnancy and Heart disease
Pulmonary Hypertension
Quality Certification
Rapid Sequence Induction
Regional Anesthesia in Pediatrics
Regional anesthesia complications
Rhabdomyolysis
Risk Management
Réanimation en salle de naissance
SIADH /SXS
Sedation out of OR and ICU
Septic Shock
Severe Acidosis
Shock
Simulation Training / cadaver shop
Software Development Process
Spinal / combined Spinal Epidural Anesthesia
Spine Trauma
Statistical Analyses
Structural Optimisation (regulatory aspects / staff)
Sub Arachnoid Hemorrhage
Sub Glottic System
Supraglottic Airways Devices
Syndromes Hémorragiques
Target controlled infusions - Closed-loop
Thoracic Trauma
Thoracic Ultrasound
Thrombo-Embolie
Thromboembolism Risk
Thromboprophylaxis
Transcranial Doppler and optical nerve ultrasound
Transfusion
Transfusion free
Trauma
Tropical Infections
Trunk blocks
Ultrasound Guided Epidural Block
Ultrasound Guided Pericardial Drainage
Ultrasound-Guided Puncture
Uro-Vascular
Video Laryngoscopy
Viral Infections
Weaning from Mechanical Ventilation
prothetis infections
Mentor
Dr Cédric Basquin
Échanger sur nos pratiques de manière confraternelle conviviale et décomplexée!
Reviews
Vos confrères qui ont participé à ce tandem l'ont évalué :
No review