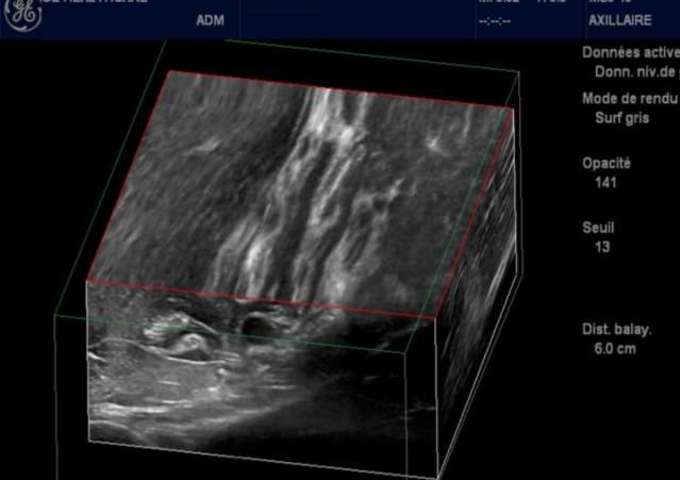 Regional Anaesthesia
Bloc Axillaire Echoguidé Injection sous paraneurale
En France ou en Europe
Can move to your structure
Booked 1 times
flag Languages spoken : French, English
4-handed practice

Level required: advanced

Max 1 person

Duration : 1 day
Program
Advanced program
Objectif OPTIMISATION et DIMINUTION DES RISQUES : - augmenter le SUCCÈS de vos blocs: déjà à 80%, atteignez les 100% et proposez une réelle efficacité à vos patients - augmenter la PRÉDICTIBILITÉ de vos blocs : atteignez 100% et rassurez vos patients - Diminuez le délai d'action de vos blocs: moins de 15minutes et augmentez votre turn over de patients -Diminuez les VOLUMES d'anesthésiques locaux et les risques de toxicité : maximum 20ml
Practical aspects
Rencontre le matin de la formation Matin 1/ Optimiser la technique de ponction dans et hors plan : appréhender les trucs et astuces pour TOUJOURS aligner son aiguille (dessins et ponction sur phantome) 2/ Séance de sonoanatomie pour visualiser le paranèvre Après-midi : 1/Injection sous-paraneurale surveillance de la diffusion de l'AL 2/ pour aller plus loin : variations hémodynamiques locales du membre supérieur après bloc axillaire Vous saurez faire dès le fin de matinée, le reste de la journée permettra de roder la technique
Program details
Je propose ce savoir-faire car avec cette technique d'injection de l'AL le long du nerf sous le paranevre, l'efficacite est de 100% en moins de 5minutes. Il faut juste verifier que l'AL longe bien le nerf sur plus de 5 cm. Je vous explique tout cela quand vous voulez.
My equipment
Echographe Sonde linéaire Aiguille échogène
Associated skills
Fluid Therapy
Acute Pain
Awake Fiberoptic Intubation
Axillary block sous paraneural
Bloc du plexus cervial
Bloc sciatique par voie subglutéale
Bloc sensitif du nerf radial
Central venous Puncture : PIC Catheter...
Clinical Research
Difficult Ventilation
Face, Cervical - eye - neck blocks
GA and Analgesia Monitoring
General Anesthesia
Hemorrhage Shock
Hypnosis
Jet Ventilation
Master class - Symposium
Onsite Trainings
Ophtalmology
Otolaryngology - Maxillofacial
PECS blocs
Perienural Catheters
Peripheral Regional Block
Peripheral Venous Access
Regional Anesthesia and Ambulatory
Sedation out of OR and ICU
Sub Glottic System
Target controlled infusions - Closed-loop
Trunk blocks
Ultrasound Guided Epidural Block
Ultrasound Guided Regional Anesthesia
Ultrasound-Guided Puncture
Video Laryngoscopy
foot blocks
Mentor
Dr Lucie Beylacq
Le partage de savoir-faire est tres enrichissant. "Venez me voir et vous m'apprendrez" disait le Pr Vincent Chan. Je vous dirais "Venez, partageons, et apprenons ensemble en Tandem on se sent beaucoup mieux."
Reviews
Vos confrères qui ont participé à ce tandem l'ont évalué :
No review